Belgium Ocularists has a device that's unique in Belgium: the soft scleral lens. This lens is placed directly on the cornea (the transparent part that covers the iris) and the sclera (the white part of the eye) and masks small imperfections such as strabismus. Made in the same way as a classic contact lens, it can be adapted to your eyesight, offering you clear vision and an aestheticism close to reality.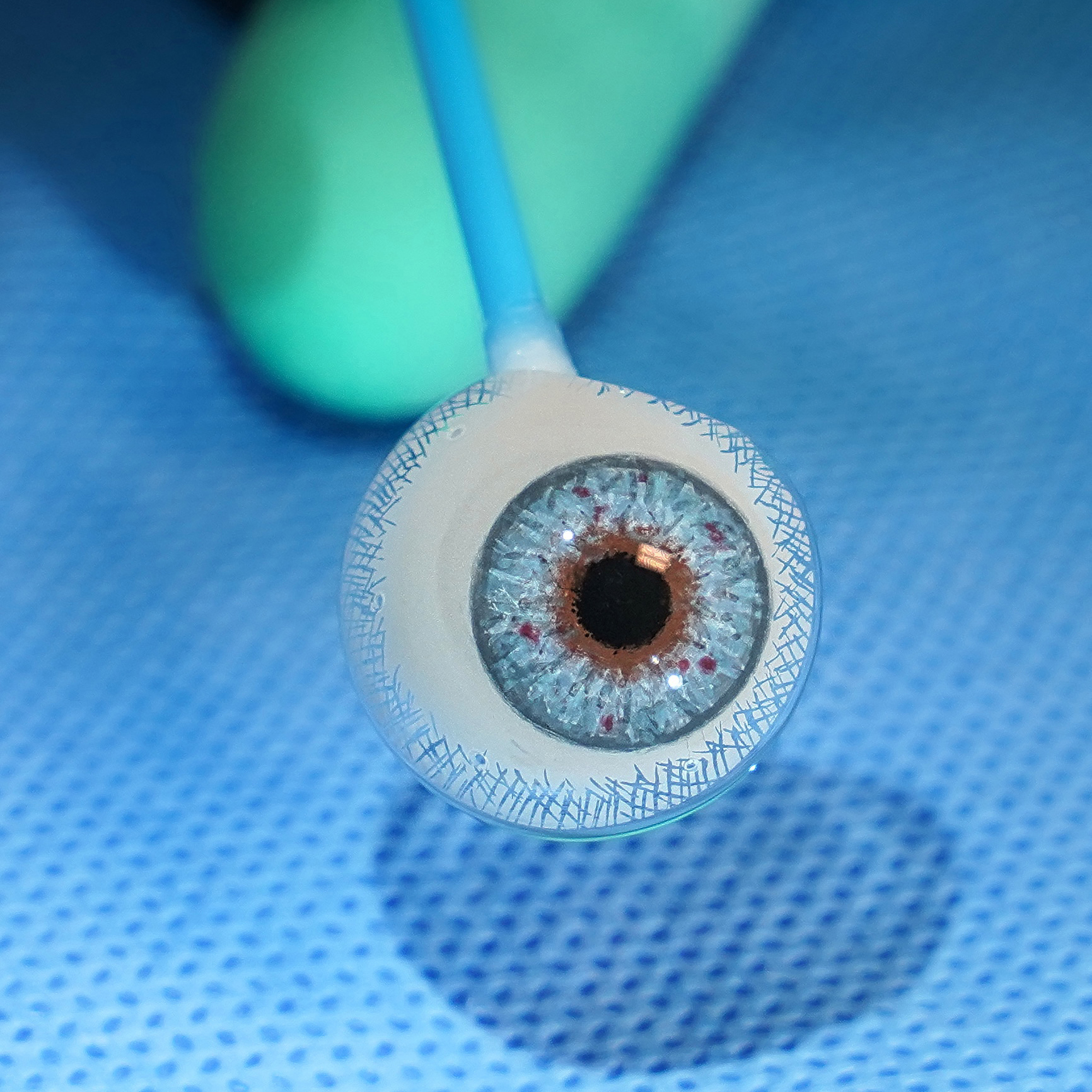 Our soft scleral lenses are entirely hand-painted by a team of professionals. 
Therefore, we can offer you a lens that closely resembles your other eye. Our soft scleral lenses are comfortable to wear, easy to remove and last a year. Our team will fit the lens for you and give you all the advice you need for its maintenance.
All our soft scleral lenses are guaranteed hypoallergenic and are produced according to the highest technical and hygiene standards.
They are partly supported by your health insurance fund or insurance.
For people with strabismus (one eye deviates inward, outward, upward or downward, while the other eye looks forward), we recommend the use of a soft scleral lens that will mask the strabismus and help recentre the position of the iris and the eye.  
As well their aesthetic value, our soft scleral lenses, which are unique in Belgium, can be used to correct your vision. We offer dioptre corrections from +30 to -30 for maximum comfort.
We take all the necessary measures to ensure a colour as close as possible to that of the iris of your other eye.  Our soft scleral lenses are entirely hand-painted with the utmost care and attention to detail to ensure a look that's as good as new.
An appointment at Belgium Ocularists
With or without correction
Do you have convergent or divergent strabismus and want to improve how your eyes look? Then get in touch with the specialists at Belgium Ocularists. Based on our passion for beautiful eyes, we suggest you go for a soft scleral lens, a unique concept in Belgium.
You can make an appointment at one of our practices located in Brussels, Flanders or Wallonia.  We speak French, Dutch and English which enables us to fully understand your problem and provide you with the best solution.
After analysing your needs, your soft scleral lens will be created with the utmost care with a focus on total realism, from the iris to the sclera. This lens is available with a dioptre correction of -30 to +30.
Once the soft scleral lens has been made, we'll teach you how to insert and remove it and give you all the necessary advice for its proper maintenance. Our soft scleral lenses last for a year and we remain at your disposal for annual changes.
Step 1: make an appointment
Step 2: measurement of your atrophied eye
Step 3: creation of your soft scleral lens
Step 4: fitting and maintenance tips provided by us
Step 5: regular follow-up
Do you need a soft scleral lens? Make an appointment at one of our practices.